Variety is the Spice of Bird Feeding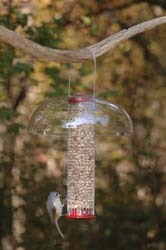 Bird feeding has come a long way since its primitive beginning in the late 1800s.
In those days, bird feeding enthusiasts could only offer some waste grains swept up from a hay-loft, bits of suet or pork fat nailed to a tree or maybe a few table crumbs placed on a tree stump.
Today, thanks to decades of observation and research, the menu available to your backyard birds is the most diverse, highest quality ever offered.
This broad selection of foods has been developed specifically to attract a wider variety of birds to your feeders and provide the most beneficial foods to meet birds' nutritional needs.
Peanuts, being relatively new to the bird feeding menu, are a great example. They are nutritionally high in protein and fat while being very attractive to a broad array of woodland and backyard birds.
Since the 1990s, mealworms have dramatically grown in popularity because of their ability to draw insect-loving birds, such as bluebirds, wrens, catbirds and even certain warblers into the backyard.
Then there's Jim's Birdacious® Bark Butter® — no other single food is known to attract more birds. More than 76 species have been observed feeding on this nutritious, spreadable suet.
So embrace these advances in bird food. They will attract an exciting new variety of birds to your yard, while providing them with much better nourishment than the foods our ancestors scraped together more than 100 years ago.