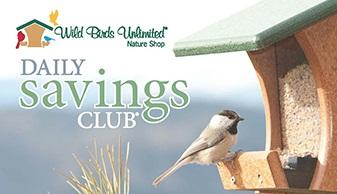 Save an Additional 5% on All Bird Food Sale Prices
Daily Savings Club Members Receive 15% OFF regular bird seed prices, everyday. In addition every purchase made earns points toward "Bird Bucks". Each 200 earned in points generates a $10 Bird Buck good for all future purchases!
During seed sales DSC Members also receive an additional 5% OFF the sale price of the Best Bird Food in Town.
DSC Members receive monthly special offers too! Ask how you can join.